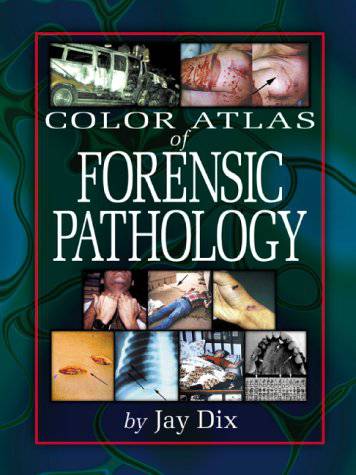 Color Atlas Of Forensic Pathology
By
Jay Dix


Publisher: CRC

Number Of Pages: 192

Publication Date: 1999-12-21

ISBN-10 / ASIN: 0849302781

ISBN-13 / EAN: 9780849302787

Binding: Hardcover

Product Description:
A male homicide victim with a shotgun blast to the chest. A female drug
addict who has overdosed on crack cocaine. An elderly woman with deep
stab wounds to the neck. A two-year-old motor vehicle accident victim
with blunt head trauma. For forensic pathologists, police detectives,
and crime scene investigators, dealing with death and injury is a daily
routine. But even after investigating thousands of drownings,
shootings, stabbings, electrocutions, overdoses, and traffic accidents,
most professionals in the investigative fields still haven't seen it
all. Originally published on CD-ROM, the Color Atlas of Forensic
Pathology addresses much of the basic information which forensic
pathologists and other investigators deal with on a day to day basis.
Packed with 780 full-color, captioned photographs, this atlas examines
everything from time of death and decomposition, to identification, to
causes of death from blunt trauma, firearm injuries, asphyxia, cutting
and stabbing injuries, and more. The atlas shows the various causes of
death and injury with case -- "visuals" to help investigators
understand the work they perform. Indeed, with its exhaustive coverage,
the Color Atlas of Forensic Pathology will provide investigators with
valuable insight into the many different causes of death and injury
they must deal with and how the manners of death are diagnosed.
Summary:
Jay Dix's "Forensic Pathology: A Color Atlas" Delivers
Rating:
5
As a make-up effects artist in the Indie horror film circuit, where
quality is frequently diminished by a tight budget, I find Mr. Dix's
atlas on the subject of Forensic Pathology to be an indispensable
pictorial reference. The photographs presented on the CD-rom version,
while explicit and unflinching, provide the realism necessary to take a
low-budget production and give it the professional boost it needs in
order to make it more marketable.
Summary:
Worst book on the subject.
Rating:
1
This was the worst purchase I have ever made. This is a poorly
illustrated coffee table book on death. There is no educational value.
Although it is obvious that the author (Jay Dix) had great cases during
his career, they are very poorly photographed, and the publisher has
done a pitiful job of reproducing them. If you have an interest in
learning ANYTHING about the world of forensic pathology, this is NOT
the book for you. At about a dollar per page, this book is not worth
your time.