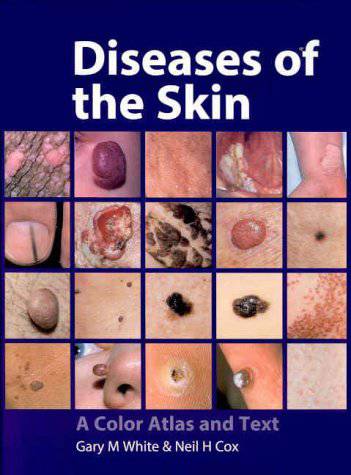 Diseases of the Skin: A Color Atlas and Text
By
Gary M., M.D. White, Neil H., M.D. Cox, Gary White MD, Neil Cox MD


Publisher: C.V. Mosby

Number Of Pages: 512

Publication Date: 2000-06-15

ISBN-10 / ASIN: 0723431558

ISBN-13 / EAN: 9780723431558

Binding: Hardcover

Product Description:
The ultimate collection of dermatologic images. White and Cox's
Diseases of the Skin is a brand-new, exciting, highly visual,
up-to-date, reference on dermatology. It takes a fresh look at the
broad spectrum of modern dermatology and translates it into a visually
stunning and clinically focused text ideal for both specialist
dermatologists and general practitioners.
Summary:
Good derm atlas
Rating:
5
I bought this atlas to better illustrate to patients different
presentations of common skin conditions. Great pictures, good
explanation and treatment options. Really some good work ups
illustrated throughout this easily read text.