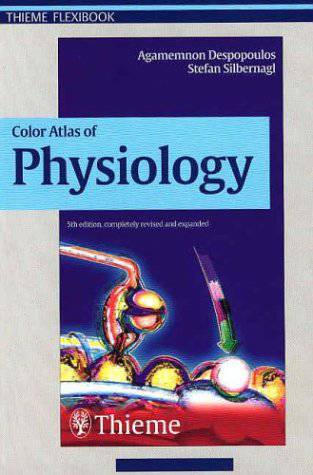 Color Atlas of Physiology (Color Atlas of Physiology ( Despopoulos))
By
Agamemnon Despopoulos, Stefan Silbernagl, Suzyon O'Neal Wandrey


Publisher: Georg Thieme Verlag

Number Of Pages: 432

Publication Date: 2003-02-26

ISBN-10 / ASIN: 1588900614

ISBN-13 / EAN: 9781588900616

Binding: Paperback

Product Description:
The 5th English edition has been thoroughly revised in terms of content
and organization of the didactic material; almost all of the color
illustrations have been drawn anew for improved clarity. The extensive
introductory chapter focuses on aspects of cytophysiology. Owing to the
considerably expanded text and improved illustrative material,
functional connections are easily recognized; new concepts and current
advances in research are taken fully into account. Main features are:
General and cellular physiology; Nerve and muscle; Autonomic nervous
system; Blood; respiration; Acid-base balance; Kidney salt and water
balance; Heart and circulation; Thermal balance and thermoregulation;
Nutrition and digestion; Hormonal control; Central nervous system and
senses.
Summary:
Great Resource
Rating:
5
I wish I would have bought this book earlier in my medical school
career. Not only would it have helped for all the physiology sequences
(cardiac, renal, etc) but it would have been helpful for histology,
neuro,and endocrinology. The pictures are great and the explanations
are uncomplicated. If you are a visual learner then I highly recommend
this book. I am an endocrinology TA and have found it as a wonderful
resource. I have the color atlas of immunology and have ordered the
pathophysiology and pharmacolgy books by thieme as well.
Summary:
Excellent
Rating:
5
The same as I mentioned about the Color Atlas of Pharmacology, it's the
best way to review Physiological functions in just one scheme for each
topic. Totally recommended.
Summary:
#1 Guide to Physiology
Rating:
5
A very complete guide to physiology which can be used by researchers,
graduate students and MD students alike with incredible detail included
that may be beyond what is needed even. That makes it a great
reference.
Its unbelievable that its in pocket handbook format.
My top rated physiology books would be:
Color atlas (this guide)
Applied Surgical Physiology Vivas (+ Critical Care Edition) (Kanani)
Berne and Levy
In that order exactly.
Back to the book:
Invaluable and truly an amazing, complete and extremely detailed carry-around reference.
Summary:
Can't live without it.
Rating:
5
This and it's companion book on Pathophysiology are the best
investments I have made since entering medical school. The
illustrations are great (and the diagrams set a standard that neither
Guyton or Boron and Boulep can match) , but it's Silbernagl's
presentation that makes them so amazing. I'm constantly finding new
layers of information that I missed even after 4 or 5 passes. Buy Boron
for this year's theories and break throughs, but this is the book you
will be returning to.
Summary:
state-of-the-art
Rating:
5
What makes this book a state-of-the-art is not its content, but the
manner in which it's presented. Each subject only occupies one page of
text, & opposite is a page for illustrations. But it's not the
illustrations that explains the text, but rather the text that explains
the illustrations (a method created by Leonardo da Vinci). This not
only helps in recalling of the subject, but also helps in sustaining an
interest in it. An ingenious beautiful book.